Did you know that learning how to play the piano need not be expensive? You don't have to spend thousands of dollars for a real piano just to use it for practice!
Instead of buying an expensive piano, you can buy a beginner keyboard which costs considerably less than a piano!
There are far too many keyboards to choose from nowadays, and choosing the best one for your needs can seem like such a difficult task. This is why we have created a list of the best beginner keyboards.
After countless hours of research and testing these keyboards, we have shortlisted the top 10 keyboard pianos which you can buy right now.
In this article, you're going to learn what the best beginner keyboards are that cost well below $200!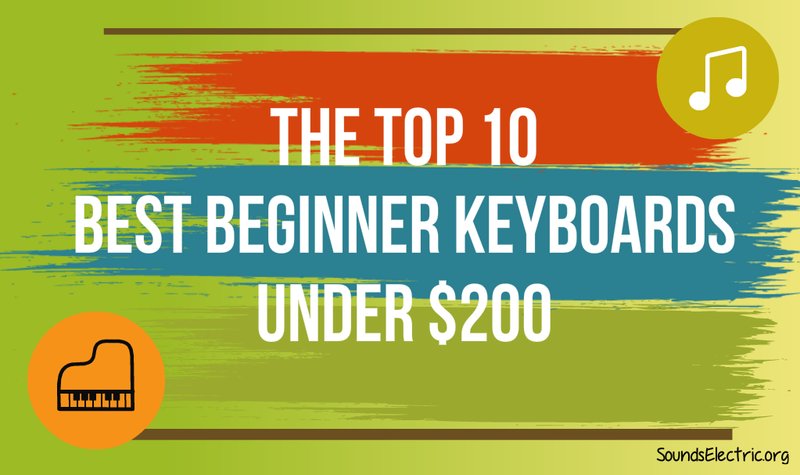 Top 1: Rockjam RJ761
"The best beginner keyboard as it offers the best value for your money!"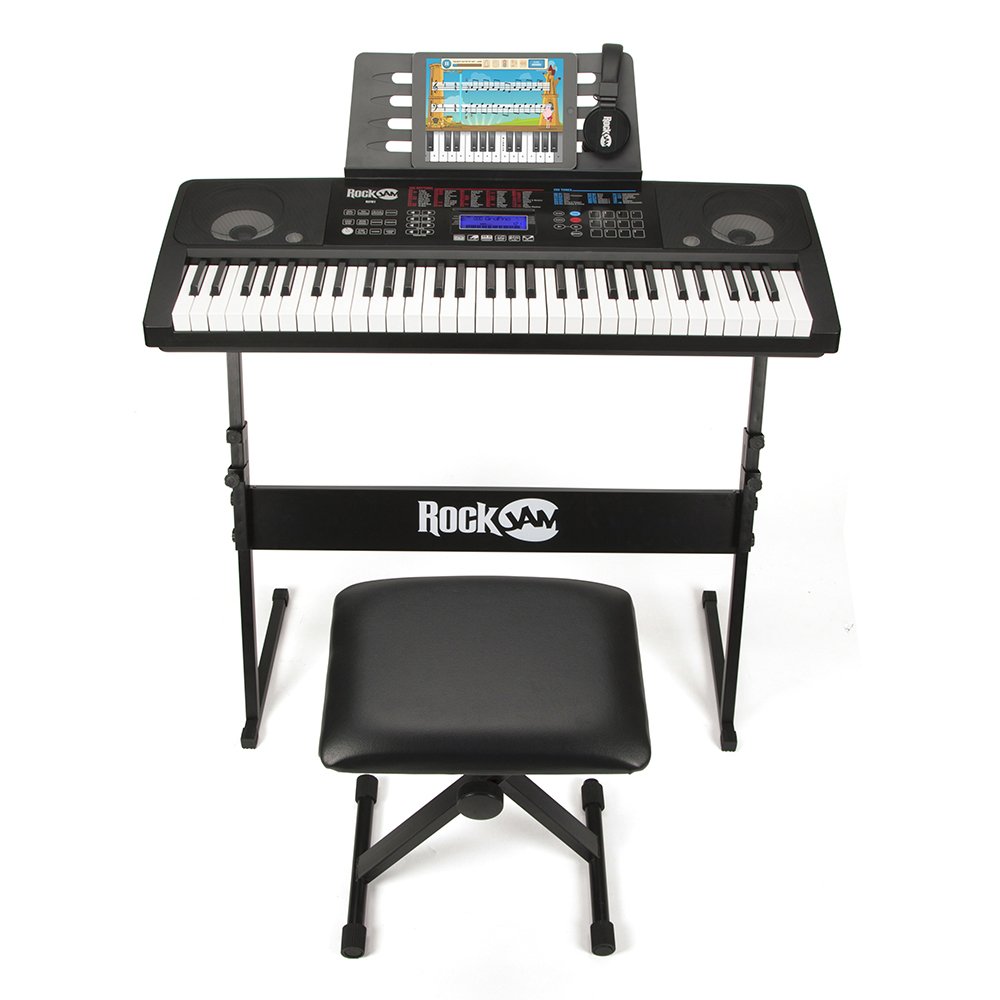 VIEW AT AMAZON
Any novice learner who wants to future-proof their keyboard piano will surely love the Rockjam RJ761. There are a wealth of options which will give you the freedom to customize your music however you want it.
There are multiple digital effects, a 30-track song sequencer if you want to compose songs, a rhythm editor, an arpeggiator, and it's got even more than the usual number of keyboard voices.
With 200 tones and 200 preset rhythms and 30 demo songs , you will never run out of playing options!
For connectivity, there's a USB port so you can connect your RJ761 to your computer and process MIDI data. The SD card slot allows you to store your music and easily transfer your music files as well.
It's a highly portable keyboard at 12 pounds and with the number of features onboard, we think this is the best beginner keyboard for your money especially if you want to get creative with your music!
Pros:
-Touch sensitive keys

-200 preset rhythms

-Built in USB port

-SD card support​

-Soft Touch

-MIDI Support

-Headphones included

-Keyboard stool

-Keyboard Stand

-Keyboard sickers included

-Perfect for both beginner and intermediate learners​
Cons:
-Non-weighted keys

-Non-lighted keys
Top 2: Yamaha EZ-220
"Yamaha's best keyboard for beginners!"

The Yamaha EZ-220 is the number two entry-level electronic keyboard piano on our list because it's a great first keyboard for the ultimate beginner.
It is portable at 10 lbs, affordable at less than $200 on Amazon, and is extremely easy to use with its light up keyboards and the Yamaha Education Suite.
This keyboard is bound to be a hit with beginners thanks to its touch sensitive light up keys which help develop your fingering techniques for both your hands!
In addition, this model includes 100 free sets of songs and 392 instrument sounds such as strings, guitars, brass, drums, and piano which will entertain and get you familiarized with a wide variety of sounds (and yeah, pretend you are playing in a band!).
This keyboard may not have a built-in recorder like some of the other keyboards on our top 10 list.
However, there are two modern features that are sure to captivate young and savvy learners: first is the USB to HOST port which connects the EZ220 to your computer or iPad; and, the built-in wireless connectivity to the free Page Turner iPad app.
This app features an audio recorder that will allow you to capture your performance and make it super easy to share your music with your friends.
Pros:
-61 touch-sensitive and light-up keys

-392 instrument sounds of strings, guitars, brass, drums, piano and more

-100 built-in styles and songs

-Wireless connectivity to Yamaha's free Page Turner iPad app

-Yamaha Education Suite​

-Built in USB port

-Weighs only 10 pounds
Cons:
-Non-weighted keys
-Loud background accompaniment
-No built-in recorder​
Top 3: Casio LK-280
"Casio's best lighted keyboard for beginners"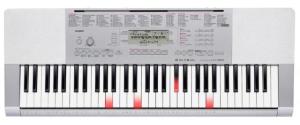 VIEW AT AMAZON
Casio's LK280 is one of the best 61 keys lighted keyboards for under $200. If you are a true beginner, you will appreciate light-up keys because it makes it easier for you to learn as it practically guides you which keys to press while playing.
If, for some reason, you don't want people to know you're a beginner then you can turn off the lighting option.
This keyboard features a host of functions that justifies the relatively expensive price tag (as compared to some of our other recommended keyboards).
For instance, it's got 152 songs onboard including 50 practice songs, 600 tones, a recorder which can store up to 5 songs, SD card support up to 32GB which allows you to store thousands of your own music!
It's also got a USB port that support MIDI operations. If you've got a microphone you can plug it in to your keyboard, play your MIDI files and you've got yourself instant karaoke.
Casio's Step Up lesson system ties in quite nicely with all the features mentioned above as it expands your learning options and more importantly, it would make learning very fun for you which is definitely a great motivator for any beginner.
| PROS | CONS |
| --- | --- |
| The light up, touch responsive keys600 built-in tones152 built in songs, including 50 practice songs5-song recorderCasio's Step Up Learning SystemBuilt in USB port and Aux input​LCD with notation and fingering displaySD card support | Non-weighted keysNo backlit display |
OR click here for our full and in-depth review of the LK 280.

Top 4: Yamaha YPT-260
"Best piano keyboard for beginners from Yamaha!"


VIEW AT AMAZON
The Yamaha YPT-260 is an entry-level model from this well-known manufacturer which offers quite a lot for the price it's being sold at (yes, it means it's a great value for money at less than $200 for the keyboard and even with the standard package included).
For a beginner, the touch sensitivity is a huge bonus at this price point (and even more so for more advanced players since they can appreciate the effort of emulating a piano's weighted keys).
The 112 songs in the song bank plus the 400 instrument voices are really quite impressive as well.
Add the Yamaha Education Suite to the mix, and you no longer wonder why this particular keyboard is very popular among keyboard newbies!
| PROS | CONS |
| --- | --- |
| The responsive and touch-sensitive keysHundreds of sounds, preset songsAUX IN jack for connecting to external audio sourcesYamaha Education Suite​*Weighs only 8 lb, 13 oz | Non-weighted keysNon-lighted keys |
OR click here for our full and in-depth review of the Yamaha YPT 260.

Top 5: Yamaha PSR-E263
"Best Yamaha PSR keyboard for beginners"


VIEW AT AMAZON
The Yamaha PSRE-263 is suitable for amateurs and beginners in the keyboard piano scene. That is not to say, however, that more advanced players can simply dismiss this particular model.
It has a duo mode not found in similar models which basically 'splits' its 61 keys into two making it useful when teaching young kids since they can easily copy which keys you are pressing on the keyboard.
This feature will also allow you to develop your left and right hand fingering techniques much faster!
At slightly a bit over 10 pounds, this keyboard offers 400 instrument voices, 130 accompaniment styles and 112 preset songs which you can either listen to or play along using the Yamaha Education Suite.
In addition, there is even a Chord Study mode which will teach you how to play a variety of chords on its own or with the built-in song bank.
The ports at the back include an aux line input so you can connect the keyboard to your MP3 player (or a computer or mixer or even another keyboard), use the built-in speaker to play your music, and play along to it on the keyboard!
| PROS | CONS |
| --- | --- |
| 400 high-quality voicesNine-step lesson functionRecording functionThe duo mode for converting one keyboard into twoAux line input​Auto power off function​*Compact design | *No power cord included with the pack​ |
OR c lic k here for our full and in-depth review of the PSR-E263.

Top 6: Casio CTK-3500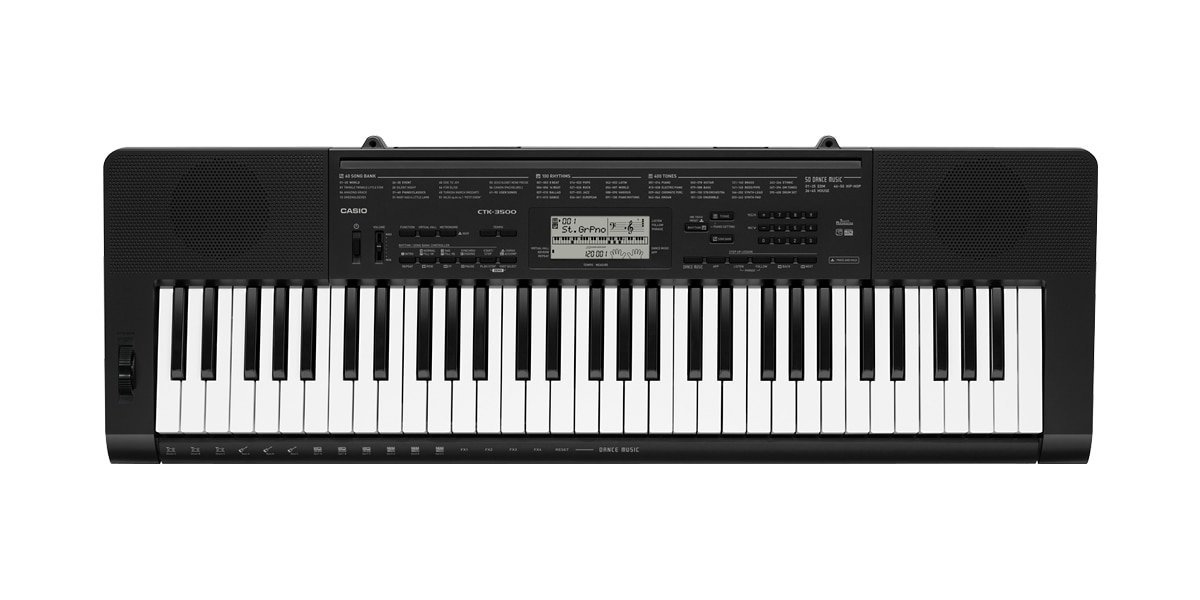 VIEW AT AMAZON

The Casio CTK-3500 is an excellent-value-for-money keyboard and is perfect for any beginner who wants to learn how to play the piano quickly. If you're taking up piano lessons, and you're looking for the best electronic keyboard, then this is the right keyboard for you.




It's a truly compact and ultra-portable 61-key keyboard (weighs just a bit over 8 pounds!) that's packed with 400 AHL tones, 100 rhythms and 110 built-in songs which really plays well with the pre-programmed Step Up lesson system.


This keyboard has touch sensitive keys so anyone who's played the piano for a while can certainly appreciate this feature. The auto shut off feature is awesome for when the keyboard is powered by battery alone such as when you are outdoors.


The pitch bend wheel is a fantastic addition as well since it is not commonly found in keyboards at a similar price point.

You can also connect your music player and listen to it through the built-in speakers (or play along with it if you wish).

The USB port supports MIDI data transfer so you can connect your keyboard to your computer and create unlimited possibilities with your music!

Whilst there are some complaints about the loudness of the speakers, this can be resolved by connecting your keyboard to a pair of external, high-quality speakers. Or a headphone. Whichever you prefer.
| PROS | CONS |
| --- | --- |
| 61 keys with Touch Response50 Dance Music ModeMaximum Polyphony 48Sampling functionChordana Play app integrationUSB and MIDI supportWeighs less than 9 poundsAuto power off function​ | Non-weighted keysNo Bluetooth connectivity |
OR click here for our full and in-depth review of the CTK 3500.

Top 7: Yamaha Piaggero NP12
"Best portable piano keyboard for beginners (minimalist and lightweight, too)"


VIEW AT AMAZON
The touch sensitive Yamaha Piaggero NP12 is stunning in its simplicity. Unlike all the other keyboards featured on our top 10 list with a plethora of buttons for hundreds of different options, this keyboard favors a minimalist look with only a few buttons on the left.
This keyboard is perfect for older and more serious beginners who prefer not to get distracted with light up keys or a colourful keyboard with plenty of customization choices.
This is the best portable piano keyboard for beginners under $200. This is perfect for aspiring pianists who want to play on a real piano in the future, but do not want to splurge on one just yet.
The Advanced Wave Form stereo sampling makes the piano sound more realistic than other keyboards at this price range.
At less than $150 in most stores, it offers great value for your money and at 10 pounds you can easily lug this around and show off your musical prowess (and your sleek and pretty keyboard) to your friends.
If, for some reason, you forget to turn off your Piaggero while on battery, then fret not, for it's got an Auto Power Off mode which should help extend the life of your batteries.
| PROS | CONS |
| --- | --- |
| Light and compact designPiano style, touch sensitive keysHighly portableAWM Stereo SamplingPiano-preset songs​Stereo Speaker System*Auto power off mode | Non-weighted keysNo power cord included with the pack*Doesn't come with a stand |
OR click here for our full and in-depth review of the Piaggero NP12.

Top 8: Yamaha YPT-255
"Best Yamaha electronic keyboard piano for those with a can-do attitude!"


VIEW AT AMAZON
The Yamaha YPT-255 is definitely one of the company's most popular entry-level keyboards. It's got full-sized keys in a portable chassis and hosts some features commonly found in more expensive models.
The ever-popular Yamaha Education Suite is of course built-in with a 9-step lesson to guide you in your learning process. A scoring function evaluates your progress and challenges you to improve.
Also, a waiting function automatically adjusts the tempo and waits for you to hit the correct note. These onboard features make learning fun and at the same pushes you to improve at your own pace.
The YPT-255 has 385 voices or tones, 100 stored songs, 100 styles, a grand piano feature, and a power saving mode.
A master EQ makes it easy for you to adjust the nuances of the keyboard sound and trains your ear to listen to a sound that's pleasing to your ears.
While this model does not have touch sensitive keys or a USB port or MIDI support, it does have an Aux Line input at the back which allows you to connect your MP3 player so you can listen or play along with your favorite songs.
| PROS | CONS |
| --- | --- |
| 385 high-quality voices, including pianos, guitars, drums and orchestral instruments100 styles and 102 preset songsMaster EQAUX line inputAuto power off functionYamaha Education Suite*Weighs only 9 pounds | Non-weighted keysNo USB port*No MIDI support |
OR click here for our full and in-depth review of the YPT 255.

Top 9: Casio CTK-2550
"Best cheap piano keyboard at less than $100!"

VIEW AT AMAZON
One of the lowest priced keyboards on this list, the Casio CTK-2550's best feature for beginners is its Step-Up Lesson System which acts as a virtual teacher.
When you select this feature, the LCD screen will show you which keys to press for any of the 110 songs on the built-in song bank you wish to play.
This means that even if you have zero knowledge of music, you can learn to instantly play by simply following the notes and fingering instructions on the LCD screen!
This portable keyboard has 61 full-size keys and weighs in at 8 pounds.
It has garnered attention because of its 400 AHL keyboard voices (a lot more than other similar models) and its advanced sampling function which allows you to record (yes, it has a built-in microphone) two seconds of any sound you create (you can try clapping, snorting, laughing, etc. and save it as a sample).
You can then use your sample as your keyboard voice when playing any music you want to play. This is a big hit with younger users because it really is such a fun feature!
If you have a budget less than $100, then this cheap piano keyboard will give you good value for your cash!
| PROS | CONS |
| --- | --- |
| 400-built in AHL keyboard voices, 150 rhythms, 110 songs and 10 digital effectsSampling function with microphone inputStep-up Learning System​USB midi capabilityAuto power off functionWeighs only 8 pounds | Non-weighted keysNon-touch sensitive keys*LCD quality is not so​ great |
OR click here for our full and in-depth review of the CTK 2550.

Top 10: Casio LK-190
"Casio's best portable piano keyboard for beginners"


VIEW AT AMAZON
The Casio LK-190 offers 61 lighted keys plus a ton of learning features which would allow any beginner to learn how to play really quickly.
The LK-190 has 400 AHL tones, 150 rhythms and 110 built-in songs which presents you with many options to play and experiment on your keyboard.
The onboard sampling feature will allow you to record your own sound using the built-in microphone or even an external microphone which you can then use as keyboard voice when playing your music.
The USB MIDI connection allows you to connect your keyboard to your computer for boundless creative possibilities!
If you would like to play along to music on your phone or MP3 player, all you have to do is connect it to the AUX input and voila! You can now play along to your favourite music!
For sound output, the stereo speakers are really quite good but beware that when it gets too loud, the keyboard starts to vibrate.
Good thing is you can just plug in a pair of headphones and turn the volume all the way up to avoid the unwanted vibration. Your roommate and your neighbors will thank you for it.
| PROS | CONS |
| --- | --- |
| The light up keys400 tones, 150 rhythms, 110 songsStep Up Lesson SystemUSB MIDI and Aux inputSound EFX sampler with microphoneAuto power offWeighs only 11 pounds | *Non-weighted keys |
OR click her e for our full and in-depth review of the LK 190.



​

What are the criteria for choosing the best beginner keyboards?
There are so many options to choose from and it can get very confusing for a starter so we decided to make this guide as detailed as possible to help you out.
If you are wondering how many keys you need for your starter keyboard (do you buy the 49-key, 61-key, 76-key or 88-key keyboard), then you have come to the right website. This is in fact the first essential feature on our list (to clue you in, the correct answer is 61 keys).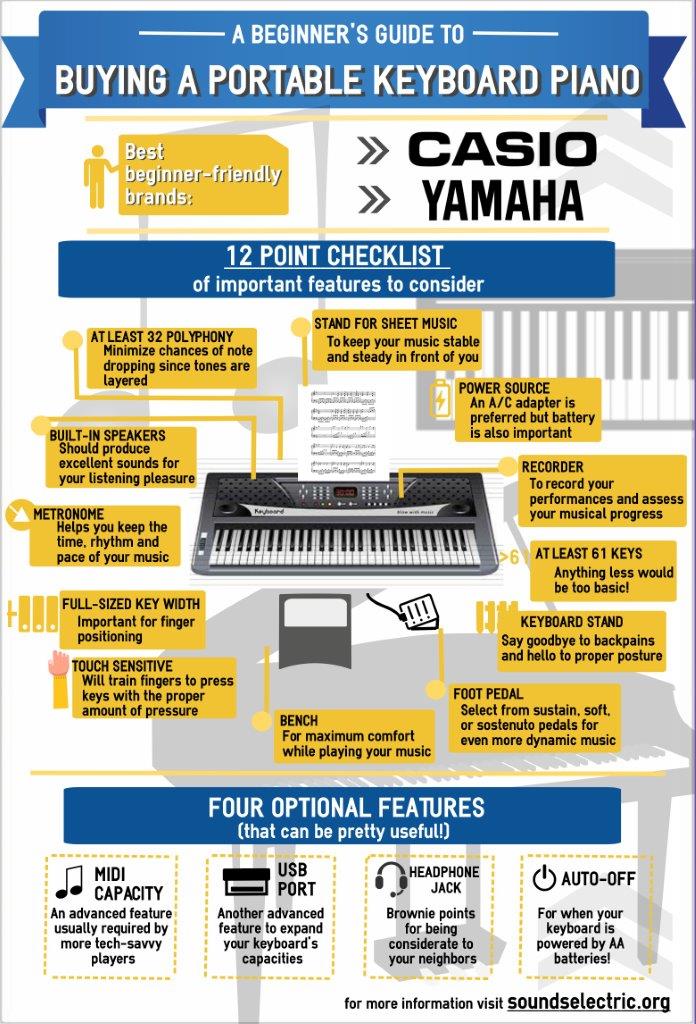 (Credit: This guide is adapted from www.marthabeth.com .)
1. There should be at least 61 keys
All our Top 10 best beginner keyboard smeet this requirement. This is first on the list because 61 keys span 5 octaves which are basically all that a beginner needs at first.
According to most piano teachers, five octaves is enough for basic learning and proper fingering position which is needed to develop the right technique for playing the piano.
Sure, a real piano has more than 61 keys, but if you are truly a beginner, anything more than 61 keys may be very overwhelming especially for young children.
On the other hand, a keyboard with fewer than 61 keys would not guarantee true and fast learning because most musical pieces require at least 61 keys.
2. Key width should ideally be the same as that of a real piano
Unfortunately, some keyboards do not follow this 'standard' which result in some models having smaller keys, or (quite rare) larger in size.

This is actually very important since key width determines the proper positioning of your fingers, which would lead to the correct fingering technique, and of course, development of your piano skills.

3. Touch sensitivity of the keys
What does 'touch sensitivity' mean exactly?

It means that the harder you press a certain key, the louder it would sound, responding to your touch easily. Sure, if you are a beginner, you do not immediately need all the advanced features since you are still learning the ropes.

However, touch sensitivity is very useful in training your fingers with moderation or control, so early on, you avoid bad techniques such as aggressiveness of fingers or meekness in pressing the keys.

Some of our featured keyboards do not have these features. These are Yamaha's PSR-E263, YPT-255, YPT-240 and Casio's CTK-2550.
We still included these 4 in the list because we believe the lack of touch sensitivity on these models are more than made up for by other features thus they still provide unbeatable value for beginners!
4. Polyphony matters
Are you worried about messing up when you start your piano lessons?
No need to worry - polyphony focuses on the sound elicited by the keys which would allow beginners to play and perform advanced level pieces. It also allows for sustained notes to ring through without being cut off.
All of the 61-key keyboard models that belong in the Top 10 have multiple polyphonies, but Casio edges out Yamaha in this feature since it has a constant 48 polyphony while Yamaha merely consists of a constant 32 maximum polyphony (except for the new Yamaha PSR-E453which now has 48 polyphony).
Still, 48 or 32 maximum polyphony, it already provides you with plenty of margin and minimizes the chance that notes will be dropped when the tones are layered, serving as a guide in case you use the instrument tones and the auto-accompaniment.


5. Built-in speakers which produce high-quality sounds
Check the speakers of the keyboard piano that you're planning to buy, because even after considering all the features that you need and want, it would be terrible to end up with bad speakers!
After all, you rely on the keyboard speakers to hear the music you are playing.
If the speakers don't resonate or produce excellent sounds, you won't develop the proper ear for music which would hinder your learning.
You depend on your ears when you play, and when you listen to the tones and rhythms that you make.
If you decide to purchase a keyboard that's not on our recommended list, you have to be careful and ensure your chosen keyboard has built-in speakers.
Luckily, all the models we recommend have excellent speakers and the Rockjam RJ761even has a 4-way speaker which produces louder and more pronounced sounds.
So if this feature is of utmost importance to you, then the Rockjam RJ761 would be the right keyboard for you!
If you would like to connect external speakers to your keyboard, then you may want to check out Amazon.​ Check out some external speakers on Amazon.
6. A built-in metronome to guide your rhythm
The ticking sound of a metronome is sweet music to a musician's ears.
It will be absolutely essential in helping you keep the time, rhythm and pace of your music while you learn and familiarize yourself with the keys.
It should be emphasized as being truly essential for a true musical experience and is certainly a crucial part of a beginner's learning lessons.
The metronome can help with all your off-keys, acting as a helpful guide and virtual teacher, so you know when you're doing well, and when you need to speed up or slow down to be on correct rhythm while playing your portable piano keyboard.
And lastly, yes, all of the keyboards on our top 10 list have a built-in metronome but if you want some external metronome, then check out Amazon. Check out some metronomes on Amazon.
7. A built-in recorder for recording your music
As you learn the basics of playing your keyboard piano, you may find the urge to record the notes you are playing to check if you are on the right track or not.
A built-in recorder would be very helpful and really quite convenient since all you have to do is press a button on the keyboard to start recording your music.
When you're done, simply tap on the button again to stop recording and then press the playback button to hear your music!
8. Power source should ideally be both A/C and batteries
Many first-time keyboard buyers have mistakenly assumed that all keyboards come with an A/C power source.
In your excitement to buy a portable keyboard piano, you certainly do not want to forget to take into account the power source.
Most of the keyboard models in our list can be powered by 6 AA alkaline batteries but of course, we all know it's not going to last for weeks.
If you continuously use your keyboard for hours at a time, your batteries would need to be recharged (if you purchase the rechargeable ones) or replaced. This can be costly and can be quite annoying.
An A/C adapter is the cheaper option for longer use and uninterrupted playing and practice.
Unfortunately, this accessory is sometimes an add-on for Yamaha and Casio keyboards. If it's not included in your keyboard package, go ahead and purchase one. It's not overly expensive and will be quite a worthy investment. Check out the keyboard power source accessories on Amazon.
9. A foot pedal
You may have watched musical performances on television or in person, the pianist sitting behind a grand piano is shifting his or her foot every now and then, and your ears probably caught how it made the music even more dynamic.
What the pianist is stepping on are called foot pedals and on a piano, there are three pedals—sustain, soft, and sostenuto.
The sustain pedal is essential, since when you depress this, the damper bar sitting on the deadened strings is lifted, and so the notes will continue to ring after the keys are released.
The soft pedal, on the other hand, is fairly helpful since it gives you the correct general foot positioning.
Lastly, the sostenuto pedal is meant for advanced piano players, and not needed for those just beginning their musical journey.
All of Yamaha and Casio's portable piano keyboard models lack a built-in pedal, but they all have a built-in port so you can connect external pedals if you want. Check Amazon for the best pedals for your keyboard.
10. Music stand for your sheet music
You're probably thinking all keyboards come with a stand for sheet music.
However, this is not usually the case. Most stores (online or physical music stores) sell the stand as an additional accessory. (Don't ask me why, but they probably think most people would be happy to just prop their sheet music against a wall or something.)
Music stands are important because it holds your music booklets, song sheets, or even your gadget (perhaps a tablet where you store your digital sheet music).
Unless you can play music by ear, then you need a sturdy music stand so you can comfortably read your notes or you will be totally lost!
So, you need a sturdy and stable music stand, one that would not fall over, or one that would provide the greatest support. It should be of enough height to be at your eye level when you sit in front of your keyboard.
All of our top 10 beginner keyboards have music stands as an additional accessory and Yamaha's EZ-220 even has an innovative music stand that can wirelessly connect to your iPad. You can check Amazon for the most suitable music stand for your favorite keyboard.
11. Stand for the keyboard
This is very important if you are concerned about portability and moving your 61-key keyboard from one place to another.
No matter how lightweight a portable piano keyboard is, if you hold it on your lap for a long period of time (even 10 minutes would be long enough), you will surely develop cramps.
It would be mighty inconvenient playing a keyboard on your lap or even on your kitchen or study table since it might not be of correct level for your hands and eyes.
Why is this important?
Well, apart from being inconvenient, without a level-keyboard stand, you will easily get exhausted while playing.
You would also have a difficult time developing your piano skills and learning the proper techniques.
All our top 10 models do not include this ultra important accessory but is available as an add-on (or at least bundled in a package) so you do have to shell out some extra cash since a good quality stand can be expensive by itself. You can check Amazon for the most suitable stand for your keyboard of choice.
12. A good comfortable bench
Every pianist (beginner, intermediate or expert), need a good bench to easily and efficiently learn the rudiments of piano playing, especially if you are learning by yourself and studying using the step-up guides included in some Yamaha and Casio keyboards.
You need to be comfortable because if you are relaxed, it would be easier for you to learn. This means that if you are buying a portable keyboard for a kid, you would have to look into buying a higher bench.
Why?
You need a bench that will support your weight well and will put you at just the right level with your keyboard piano, so as not to compromise the movement of your arms and hands.
A good height bench will also align your spine, which will help avoid immediate exhaustion and backaches as you practice for hours.
All the keyboard models in the Top 10 do not come with a free bench so you might want to consider buying a package or bundle which comes with a good quality bench. Check out Amazon for the best bench for your keyboard.
Modern technology has allowed keyboard manufacturers to include a variety of advanced features and special effects that are not really all that necessary for beginners.
These 4 features we are about to discuss next can be quite useful but these are not going to shatter your musical aspirations if you don't use them at all.
1. MIDI Capability
A keyboard with Musical Instrument Digital Interface (MIDI) capability will allow you to connect your keyboard to your computers and iOS devices.
This is helpful for beginners and intermediate players alike since it basically allows you to work with a computer in order to, for example, set in notation the music or song that you are playing on your keyboard. To do this, you will need some notation software such as Finale.
You can also use your keyboard's MIDI capability when you want to download some MIDI files from the Internet and play them on your keyboard's speakers.
Aside from this, you can record and edit MIDI files without worrying about the sound.
2. USB Port
Check if the keyboard piano you're interested in buying includes a built-in USB port.
It's not so essential, but for a beginner, you may want the additional support that you can obtain by connecting your keyboard to another music device such as an MP3 player so you can familiarize and eventually play your preferred or favorite songs.
In addition, it would actually be helpful to connect your keyboard to a computer or laptop, so you could easily pull up songs from your hard drive or even the Internet.
Thanks to a USB connection, the dynamism of your music can be limitless since you can layer your songs with different styles, aside from the usually built-in auto-accompaniment, and also play with different musical instruments which will add variation to your tunes.
3. Headphone Jack
Let's face it. A beginner in keyboard piano who knows very little about playing music is bound to commit lots and lots and lots (did we say lots a lot?) of mistake.
There is a saying that goes, "Practice makes perfect!"
Well, if you haven't perfected your music yet and you play when your mood strikes you (morning, afternoon, late evening, midnight, whenever) then you are bound to get some complaints from your housemates, or your next door neighbor.
After all, listening to off-key music being played over and over again can get irritating.
The best way to go about your business without anyone getting disturbed is by plugging on a pair of headphones to your keyboard's headphone jack, and voila! Your problem is solved!
The top 10 keyboards we recommend all have built-in headphone jacks and some retailers bundle up a headphone in their keyboard packages. However, if you truly want maximum listening pleasure, then don't scrimp on the headphones. Check out Amazon for the best headphones for your keyboard.
4. Auto Off Feature
This is really just a secondary feature but this can be incredibly useful when you are totally dependent on your 6 AA alkaline batteries.
Auto-off is similar to the power saver function that you can find on computers and laptops, so it is an important aspect to look at if you do not plan on buying the A/C adapter of Yamaha and Casio keyboards (which means your keyboard is battery-powered alone).
Also, if you plan to play outside where there is no outlet for electricity for your AC adapter, then make sure to check out keyboards with this feature for your convenience:
If you come across a keyboard which has any of the following features, you had better cross it off your list and move on to the next one.
1. Keyboard has less than 61 keys
Most beginner lessons require at least 61 keys. Some would say at least 88 keys but we believe that 61 keys is sufficient enough for a beginner and even an intermediate level player.
A keyboard with less than 61 keys wouldn't be good for a beginner since it would be too basic and would be quite detrimental to your playing.
We all know how essential learning the basics are for any subject, so avoid keyboards with less than 61 keys!
2. Powered by batteries only
If you make the mistake of buying a battery-only-powered-keyboard, playing and practicing for hours on end would immediately take a toll on your battery life. So either you buy several sets of rechargeable batteries or you buy plenty of boxes of regular batteries.
Either way, it's going to be costly and it would be very annoying to be interrupted during practice when your keyboard shuts down on you.
3. Lack of onboard speakers
How are you supposed to learn without listening to your music?
Listening to music trains your ears and helps you learn proper skills, teaching you to listen for faulty notes and off-key rhythms.
Aside from this, listening to your own performance gives a boost of confidence and motivation (which is needed to help you move up to intermediate player level).
So it is very important that you buy a keyboard with built-in speakers.
The perfect brands for the best beginner keyboards
It's a well-known fact in musical circles that Yamaha and Casio are two of the most popular brands for musical instruments. If you see someone playing on a keyboard, chances are it's either a Yamaha or a Casio.
After all, both brands are known for their sound quality and key action, what with Casio's excellent Tri-sensor keyboard and Yamaha's Graded Hammer Standard.
If you are just considering these two features, Yamaha would easily come on top. However, if you're looking for a cheaper keyboard then Casio might the most suitable brand for you.
Great innovations do come at a higher price, so Yamaha's relatively expensive price tag might be due to its excellent technological advancements (or probably because of their global popularity).
This doesn't mean though that Casio is lacking because it also has many features that would help enhance your musical skills.
Have you decided which keyboard you will buy?
We've given you the complete rundown on what features to look out for (and avoid) when buying the best keyboard for beginners.
To summarize, the best and most trustworthy brands are Yamaha and Casio (you can't go wrong with either of these two).
And we've given you a list of 10 best keyboards for beginnersand intermediate-level learners.
And lastly, we have listed down in detail important features your keyboard should have.
It might sound cliche but the key to an excellent music experience is an excellent musical instrument. If your keyboard does not meet our recommended minimum standard, it is entirely possible you may not learn and develop the proper techniques.
When you are ready to move on to the next level of piano keyboards, and would like to practice on weighted keys, then we highly recommend you check out our Digital Piano Buying Guide to know which digital pianos are best for your musical level, your needs and of course, your budget.
Alternatively, should you require 76-keys for your keyboard, then visit this link to read more about the The Top 5 Budget 76-Key Digital Piano Keyboards For Beginners Under $300.