The Casio LK 280 Review At A Glance#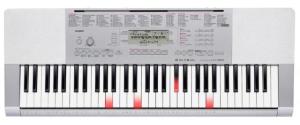 Ease of Use
Very beginner friendly
Price
Affordable at less than $200
Rating
Highly recommended!
We like:
*The light up, touch responsive keys
*600 built-in tones
*5-song recorder
*Built in USB port and Aux input
*SD card support
We don't like:
*Non-weighted keys
*No backlit display
Summary of our Casio LK 280 review: If you are looking for a digital keyboard piano that could act as your virtual teacher, with multiple functions, and true portability, then Casio LK-280 just might be the best portable keyboard piano for you. It is basically everything you need in order to start learning the ropes in a piano and musical career.
Quick Navigation The Casio LK 280 Review At A Glance A Short Introduction An Overview of Casio LK-280 Features Advantages of Casio LK-280 Disadvantages of Casio LK-280 A Few Casio LK-280 User Reviews Frequently Asked Questions Should you buy the Casio LK-280? Looking for the Casio LK 280 manual?
A Short Introduction#
The Casio LK-280 portable piano keyboard has the blend of portability of a start-up keyboard piano with the standard and amazing features that you can find on more professional keyboards.
It comes with 61 light-up keys, 600 built-in tones, 152 preset songs, and 180 rhythms with a USB port for MIDI operations, SD card slot for storage and can be powered by AC or 6 AA batteries.
Aside from this, it also boasts of Casio's Step-Up Lesson System which acts as your guide together with the lighting-up keys, which helps you become proficient in playing the keyboard piano in such a short time!
An Overview of Casio LK-280 Features#
---
61 touch responsive lighted keys
152 built in songs, including 50 practice songs
600 built in tones
5-song recorder
Reverb and chorus
Integrated Casio's Step-up Lesson System
USB port to use music software or transform the keyboard into a stereo speaker system for a MP3 player
AUX input
48 note polyphony
SD card storage
LCD with notation and fingering display
Includes power supply
Click here if you would like to read the complete Technical Specifications of the Casio LK-280
| Keyboard | 61 piano-style keys with Key Lighting System |
| --- | --- |
| Touch response | 2 sensitivity levels, Off |
| Sound Source | AHL |
| Maximum Polyphony | 48 |
| Tones | 600 built-in tones |
| Digital Effects | Reverb (10 types), Chorus (5 types) |
| Rhythms/Patterns | 180 built-in rhythms |
| Auto Accompaniment | Controllers: Start/Stop, Intro, Normal/Fill-in, Variation/Fill-in, Synchro/Ending |
| Built-in Songs | 152 (Song Bank) |
| Song Expansion | 10 songs maximum (up to 320KB total) |
| Lesson Function | Step Up LessonPhrasesLesson Part selectPerformance evaluation​Voice fingering guide​(Lesson part : right hand, left hand, both hands) |
| Metronome | Beats: 0, 2, 3, 4, 5, 6 (Tempo range: quarter note = 30 to 255) |
| Recorder | 6 tracks x 5 songs (performance recording), 1 song (lesson recording), approximately 12,000 notes total, real-time recording/playback |
| Sampling Function | Maximum sampling capacity: Up to 8 soundsMaximum total sampling time: Up to 10 seconds​Sampling sound input: MIC IN / SAMPLING jack​ |
| Other Functions | Music Preset: 305 presetsOne Touch Preset: 180 setsAuto Harmonize: 12 typesArpeggiator: 90 types​Preset Scale: Equal temperament + 16 typesOctave Shift: ±2 octavesMusic ChallengeRhythm/Song controllerPiano/Organ ButtonChord Book |
| Key Transpose | 25 steps (-12 to +12 semitones) |
| Tuning Control | A4 = 415.5 to 465.9 Hz (Initial Default: 440.0 Hz) |
| Pedals | Standard jack (sustain, sostenuto, soft, rhythm) |
| USB Memory / SD Memory | ​Supported SD memory card capacities: SD or SDHC memory card, Up to 32GB, SMF (Format 0/1)*, CASIO format song playback, recorded song/CASIO format song/sampled sound/user rhythm/user scale/registration save/load, recorded song SMF format save, card format, file delete |
| MIDI | GM Compatibility: Level1Terminals: USB​ |
| Speakers | 12cm x 2 |
| Amp Output | 2.5W + 2.5W |
| Input/Output Terminals | HEADPHONES/OUTPUT (standard stereo jack)SUSTAIN/DAMPERMIC IN /SAMPLING​AUDIO INUSB: Type B (USB cable (A-B type) required to use USB terminal for computer connection.)EXTERNAL POWER (9.5V DC)​ |
| Power Requirements | AC adaptor: AD-E95100L |
| Dimensions (W x D x H) | 948 x 350 x 103 mm*Excluding music stand, and other projections​ |
| Weight | 9.9 lbs without batteries |
| Body Color/Finish | Silver |
| Included Accessories | Microphone, music stand, song book |
S ource: Casio.com

Advantages of Casio LK-280#
---
Before we list down the many advantages of the Casio LK-280, check out this unboxing video on YouTube!
1) 61 touch responsive lighted keys
It is pretty hard to learn something new, but this portable keyboard piano did not become part of the Top 10 Best 61-key Music Keyboards for Beginners if not for its reliability and ease of use that makes it super easy to use for beginners and intermediate players alike.
Its touch sensitivity will help you learn the proper techniques early on and here's the best part, it is also a light up keyboard piano! This feature allows you to learn at your own pace by following the lighted keys until you master it all!
2) 152 preset songs and 5-song recorder
This portable keyboard piano has a vast song bank of 152 built-in songs which would help in your practice especially if you play it together with the lighting-up keys. If you are not in a practicing mood, you can also play these songs for your entertainment.
It also allows you to record up to 5 songs with 6 tracks each, layer two different tones, and choose different tones for bass and treble keys, with sampling capabilities for up to 5 sounds.
3) Reverb and Chorus
This keyboard piano offers 10 types of reverbs and 5 types of chorus, which is incredibly helpful for beginners.
Reverb is a well-known effect that will make your music sound like it is in a grand concert hall or as if you are a part of an orchestra, while chorus gives the instrument a fuller sound, as if there are layers of voices on top of each other.
With these, Casio LK-280 makes sure that the sustain effect is always on-point and allows the expressiveness of the portable piano keyboard to be conveyed to its fullest extent.
4) Casio's Step-up Lesson System
Who says that learning how to play a musical instrument is too expensive and not worth the hassle?
Well, Casio LK-280 is here to ensure that you will learn without having to take and pay for piano lessons, because of its renowned integrated Step-Up Lesson System which splits up the songs into shorter versions or phrases so you can master each at your own pace.
After mastering the phrases, you can now piece the music together on your own.
Aside from these, there is performance evaluation, a fingering guide which you can follow on the LCD, and lesson part select wherein you can choose to practice with your right, left, and/or both hands.
5) AUX Input
Casio LK-280 features an AUX input for connecting your MP3 player or other devices to your keyboard piano and as such allows you to enjoy the stereo speaker system in multiple ways!
6) SD Card Slot and USB port
Working hand in hand with the AUX input, the USB port allows you to connect to other gadgets and devices for a better musical experience.
You can also connect to any computer or laptop so you can pull up songs that you may want to practice on in your keyboard piano.
Additionally, this portable keyboard piano has an SD card slot (you cannot usually find this in other keyboards) which gives you more storage space!
Disadvantages of Casio LK-280#
---
1) No backlit display
The LCD system in the middle of the keyboard works with the Step-up Lesson system as it shows a fingering guide so you can develop the proper piano technique. However, the Casio LK-280's display is not backlit which makes it difficult to see in some lighting conditions as it could reflect shadows on the LCD display.
2) Non-weighted keys
This is one of the best 61-keys for beginners, but even if it has lighting up keys with two levels of touch sensitivity, it still lacks the weighted keys that advanced pianists look for, which means that it lacks the resistance and bounce-back of a true piano.
However, this is usually the problem with digital keyboard pianos BUT is pretty normal for a starter keyboard especially when you consider its price.
A Few Casio LK-280 User Reviews#
---
We have summarized a few raving reviews of the Casio LK 280 to show you that we are not the only fans of this great beginner keyboard!
A gentleman was a bit hesitant buying this keyboard at first but now he is addicted and according to him he plays it all the time! He's had several Casio keyboards but the LK 280 is his best one yet as it has exceeded all his expectations. He loves the lighted key system because it aids in his learning how to play a particular song. For example, if he plays a song in the lesson mode and he does not press the correct keys or notes, the song will not advance to the next note. He says you have the option to play one to four measures at a time or if you are feeling confident, the entire song. You have over a hundred built in songs to choose from plus the sheet music for all the songs if you are into reading notes. He loves the connectivity options on the keyboard as he can save his songs in MIDI format (using Sibelius software) on his SD card, plug the card into his keyboard and he now has even more songs to play by following the lighted keys. Another happy buyer said this keyboard has just about everything she wants in a beginner keyboard. You can even 'split' the keyboard and use a different tone for each half, say for example, piano on the upper half and flute on the lower end. You can play with the tones and reverb options and you can even connect a sustain pedal for more variety in your music. Her favorite voice in the LK-280 is number 383. She did say she was a bit disappointed the proper fingering for the scales are not included but still this keyboard offers a lot of value at its current price. She highly recommends the keyboard to beginners and gave it 5 out of 5 stars. A mother bought this keyboard for her teenage daughter and is very happy with her purchase. She said her daughter put on a mini concert just a few days after getting the keyboard even though she has never had any piano lessons before. All she did was just follow the built-in lessons on the LK-280. Her daughter also talks non-stop about how awesome this keyboard is. Another buyer who lived in a small apartment said this keyboard is perfect for her needs as it is highly portable, doesn't take up too much space and she doesn't have to disturb her neighbors with her music because she can just plug in her headphone into the jack at the back. She loves the Step Up Lesson System and the fact that you are not limited to learning the built-in songs but also import your music from your digital library. It's not just the newbies who love this keyboard. An experienced musician loves the LK-280's ability to import any MIDI file from his own music library or the internet and then play it in "teaching" mode by pressing the keys that light up! He said it is truly awesome and is money well spent for that feature alone! A college student was pretty happy with just the basic functions and the 5 octaves which he said is more than enough for a beginner. The touch sensitive keys are a plus, in addition to the hundreds of tones and rhythms that come with the keyboard. He is also pleased that he can use it as MIDI controller when connecting it to his Mac computer and Garageband software. He recommends buying a sustain pedal to widen your musical experience.
Frequently Asked Questions#
---
How does the Casio LK 280 compare to the Yamaha EZ-220?

Both keyboards are very beginner friendly and have similar features, however, the LK 280 allows you to turn off the background music while the EZ-220 does not.

Are the keys weighted?

No, they are not just like other keyboards at this price point (below $200).

Can the lighted keys be turned off?

Yes, there is an option for you to turn it off. Just press and hold the Function/Key Light button, then press (-) until the screen displays Keylight Off. Press the (+) button to turn the lights back on.

Can I use my regular SD card with this keyboard or do I need to buy a special SD card?

Yes, your regular SD card will work just fine (as long it's not damaged or corrupted).

Can I connect a sustain pedal?

Yes, you can but you have to purchase it separately. It's really quite cheap at around $10 - if you are serious about playing it is highly recommended to buy one.

Is it easy to see the finger position on the screen?

The screen is not colored and not back lit but if there is sufficient lighting in the room you should be able to see the finger positioning just fine. There is also a voice fingering guide which means the keyboard will guide you verbally, and of course, don't forget the light up keys.

Can you download MIDI songs?

Yes, you can use the USB port for this function.
Should you buy the Casio LK-280?#
---
Absolutely yes! It's well worth the money!
Despite its relatively cheap price, its multiple functions and helpful features are definitely that of an expensive piano.
Casio LK-280 would certainly help beginners become experts and develop both skills and proper techniques while keeping the learning incredibly fun and addicting!
We hope you enjoyed our Casio LK 280 review. If you would like buy the keyboard, simply click on the red button below. We promise you will not regret getting this keyboard!​
Looking for the Casio LK 280 manual?#
Download it here.
Check out our other Casio keyboard reviews:
---
Casio WK6600 Review: The Perfect 76-Key Casio Keyboard For Intermediate Piano Players Our Casio CTK 2400 Review: 8 Big Reasons It's One Of The Best Starter Keyboards For Learning Piano in 2023 Our Casio LK 175 Review: 8 Compelling Reasons This Is The Beginner Keyboard For You in 2023 Our Detailed Casio CTK 6200 Review: 8 Reasons It's One Of The Best Piano Keyboard For Under $200 Our Casio CTK 3200 Review: 9 Solid Reasons It's A Highly Recommended Beginner Keyboard in 2023 Casio CTK 4400 Review: 8 Reasons Why It's One Of The Best Casio Keyboards For Beginners Casio WK-245 Review: Is This The Best 76-Key Casio Keyboard in 2023?