Casio CTK 3200 Review At A Glance#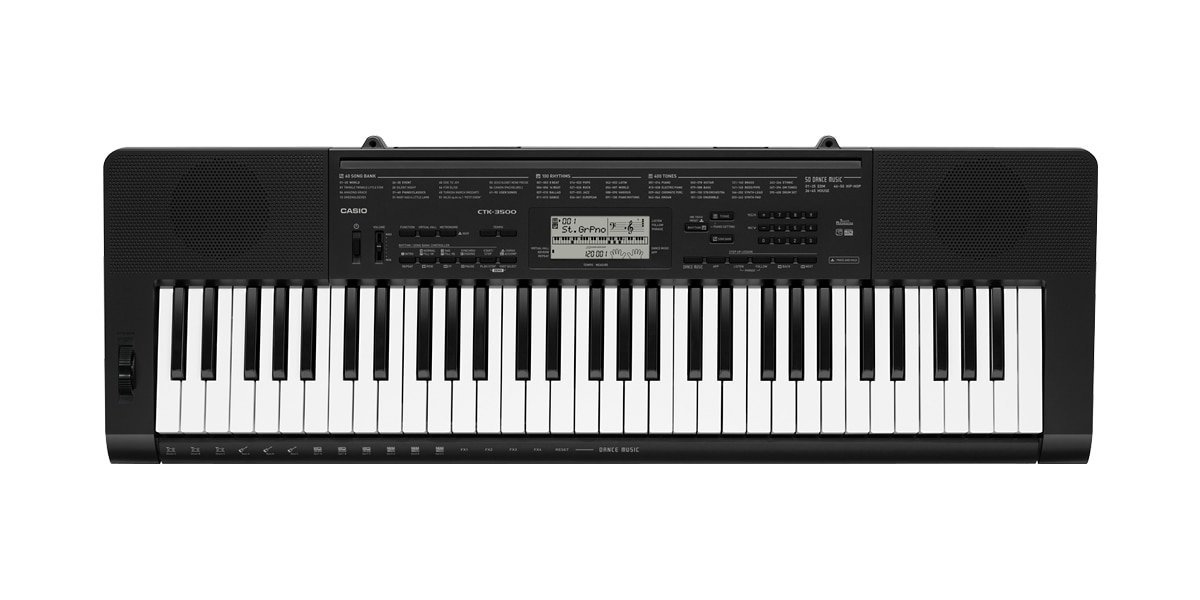 Ease of Use
Very beginner friendly
Price
Affordable at less than $150
Rating
Highly recommended!
We like:
*Dynamic, touch sensitive keys
*Hundreds of voices, preset songs and rhythms
*Sampling function
*Music challenge and step up lesson system
*USB and MIDI support
*Weighs less than 9 pounds
*Auto power off function​
We don't like:
*Non-weighted keys
*No wireless connectivity
Quick Navigation Casio CTK 3200 Review At A Glance A Short Introduction An Overview of Casio CTK-3200 Features Advantages of Casio CTK-3200 Disadvantage of Casio CTK-3200 A Few Casio CTK-3200 User Reviews Frequently Asked Questions Should you buy the Casio CTK-3200? Looking for the Casio CTK 3200 manual?
A Short Introduction#
Casio has a reputation for delivering high quality products at an affordable price for so many years and now. And with the Casio CTK-3200 portable piano keyboard, it proves yet again why it keeps getting the attention of musicians across the world playing piano of various genre and learning levels.
Many users will tell you the Casio CTK-3200 is one of the must-have keyboards of Casio. So now, you don't need to fret about your lack of piano skills because this keyboard piano is dedicated to bringing music closer to you.
An Overview of Casio CTK-3200 Features#
---
​61 dynamic touch sensitive keys
400 AHL keyboard voices
150 rhythms and 110 preset songs
48-note polyphony
Step-up learning system
Sampling function
Music Challenge
Voice pad function
Audio input
Pitch bend wheel
USB Plug and Play
Headphone connection
Click here if you would like to read the complete Technical Specifications of the Casio CTK-3200
| Keyboard | 61 standard-size keys |
| --- | --- |
| Touch Response | 2 sensitivity levels, Off |
| Maximum Polyphony | 48 notes (24 for cetain tones) |
| Tones | Built-in Tones: 400Sampling tones: 1Sampling time: 1 second (fixed)Effects: 10 types​ |
| Digital Effects | 10 Reverbs |
| Pitch Bend Wheel | Pitch Bend Range: 0 to 12 Semitones |
| Lesson | Step-Up Lesson: 4 (Listen, Watch, Remember, Auto)Lesson Part: L, R, LRFunctions: Repeat, Voice Fingering Guide, Note Guide, Performance Evaluation​ |
| Song Bank | Built-in Songs: 110 |
| Music Challenge | 20 notesBuilt-in Rhythms: 150​ |
| Auto Accompaniment | ​Chords: Fingered 1/2/3, CASIO Chord, Full Range ChordRhythm Controller: Accomp ON/OFF, Start/Stop, Synchro/Ending, Variation/Fill-in, Normal/Fill-in, Intro |
| Metronome | Beats per Measure: 0, 2 to 6Tempo Range: 30 to 255 |
| Other Functions | Transpose +/-1 Octaves (12 semitones)Tuning A4 = approx. 440 Hz +/-100 cents​One Touch Preset: 150 |
| MIDI | 16 multi-timbre received, GM Level 1 standard |
| Musical Information Function | Tone, Rhythm, Song Bank, numbers and names; staff notation, fingering, pedal operationtempo, measure and beat number, chord name, etc.​ |
| Terminals | USB Port: Type BSustain jack: Standard jack (sustain, sostenuto, soft, rhythm start/stop)Phones/Output jack: Stereo standard jack / Output Impedance: 200Ω, Output Voltage: 4.8V (RMS) MaxAudio In jack: Stereo mini jack / Input Impedance: 40KΩ, Input Sensitivity: 200mV |
| Power Jack | 9V DC |
| ​Power Supply | Batteries: 6 AA-size zinc-carbon batteries or alkaline batteriesBattery Life: Approximately 4 hours continuous operation on alkaline batteries​AC Adaptor: AD-E95100 (included)​Auto Power Off: Approximately 6 minutes after last key operation (Operates during battery use only)​ |
| Speaker Output | 2W + 2W |
| Power Consumption | 9V - 7.7W |
| Dimensions | 37 3/8 x 13 15/16 x 4 7/16 inch |
| Weight | 8.6 lbs (without batteries) |
S ource: Casio.com

Advantages of Casio CTK-3200#
---
Before we list down the many advantages of the Casio CTK-3200, here's a video from Casio highlighting its main features:

1) 61 dynamic touch sensitive keys
Maybe some would say that having only 61 keys is not enough, but in reality, most beginners who have never had a single piano lesson do not need more than 61 keys. You can buy the 76 or 88-key variety if you have the money but for the most part, 61 keys is suitable for most beginners.
The dynamic touch sensitive keys of this keyboard piano allows you to enhance the sound by adding delicate shades to notes just by varying the pressure you apply to keyboard keys!
2) 110 preset songs and 150 rhythms
The Casio CTK-3200 portable piano keyboard is definitely one of the best keyboards for beginners due to its many additional features. Take for example its vast song bank of 110 songs and its versatile rhythms of 150 which are incredibly useful during practice as it serves as a virtual guide in playing songs and correcting your rhythms.
You can also just listen to the songs with its melodious rhythm to get your ears accustomed to piano music.
3) 400 AHL keyboard voices
There is nothing more fun than learning to play your favorite song with Casio CTK-3200 keyboard piano's 400 built-in tones or what Casio calls "keyboard voices" which makes for fun times and creative moments.
It makes the tone of your songs more interesting and definitely expressive with all the instrument accompaniment so now, the sound is way better than ever before.
It also proves the versatility of this keyboard piano with its tone ranging from grand pianos to electric pianos, organs, accordions, guitars, bass, strings, choir, saxophone, trumpet, brass, flutes, synths, percussion, and even sound effects.
4) 48-note polyphony
Do you worry about how bad you could mess up during lessons? No need for any of that since Casio CTK-3200 has 48-tone maximum polyphony which provides you with plenty of margin and minimizes the chance that the notes will be dropped when the tones are layered. Moreover, it also guides you in sustaining the notes once you are playing with auto-accompaniment.
5) Sampling Function
The Casio CTK-3200 portable piano keyboard is not only reliable in its quality but also has a killer sampling function which means that you can sample a sound from a connected music player or other device and play it on your keyboard!
The sounds you sample may be used in music composition and you can even incorporate the built-in instruments in the keyboard piano for better music and of course, more fun!
6) Pitch Bend Wheel
Rotate the wheel to slide the pitch of the sound being produced upwards or downwards. This effect comes in handy when reproducing the sound of ethnic instruments.
7) Reverb and chorus
Reverb is a well-known effect that will make your music sound like it is in a grand concert hall or as if you are a part of an orchestra (dreaming is free!) while chorus gives the instrument a more full sound, as if there are layers of voices on top of each other.
With these, Casio CTK-3200 makes sure that the sustain effect is always on-point and allows the expressiveness of the portable piano keyboard to be conveyed at its fullest extent. This works side-by-side with the built-in polyphony.
8) Music Challenge and Step-up Lesson System
Want to be more proficient on the keyboard piano but don't want to feel too much pressure? Well, Casio CTK-3200 is here to ensure that you will learn without having to take and pay for piano lessons.
With the inclusion of Music Challenge, you can test the speed of your reaction by pressing the keys indicated on the onscreen keyboard guide in time with the Auto Accompaniment tempo using the correct fingers indicated by the onscreen fingering guide. This is really important so early on you already know the proper techniques.
Then, here comes the Step-Up Lesson System which splits up the songs into shorter versions or phrases so you can master each at your own pace. After mastering the phrases, you can now piece the music together on your own.
Some other features are performance evaluation, fingering guide, and lesson part select wherein you can choose to practice with your right, left, and both hands.
9) Auto Off
This keyboard will automatically shut down after 6 minutes of inactivity (during battery use only). Not a lot of keyboards has this feature, so it's absolutely wonderful that Casio included this on the CTK-3200. This is perfect for saving battery juice especially when you are outdoors and don't have easy access to electricity (or you forgot to bring your AC adapter).
Disadvantage of Casio CTK-3200#
---
Non-weighted keys
This is usually the problem with portable keyboard pianos, the keys are not weighted. But this is normal, especially considering the price, but then the resistance and bounce back of weighted keys is usually suggested for skilled pianist, not for beginners.
A Few Casio CTK-3200 User Reviews#
---
We have summarized what other buyers of the Casio CTK-3200 have to say about this great keyboard from Casio:
One buyer said he used to play piano many years ago and when he played on the CTK-3200 he said it felt natural to him as it was touch responsive meaning the harder he pressed on a key, the louder it sounded. He had always played on a real piano with the full 88 keys but he did not miss the 2 octaves missing on this 61-key keyboard. He was pretty impressed with the 400 voices (his kids loved to play on the drum setting), the metronome, and the number of beats and demo songs you can play. He said the keyboard is light and slim and can easily be stowed away in a small space such as a shelf or cabinet. A piano teacher said he highly recommends this keyboard to his students as it offers the best value for money. He said it comes with everything a beginner student needs to get started on the learning process. Another buyer said he absolutely loved the keyboard as it sounded so much better than he expected (he was expecting the sounds to be cheap, fake and plastic like). Boy, was he pleasantly surprised with the quality sounds this keyboard produced. He was also happy with the near infinite possibilities of combinations of all the built-in tones and rhythms. He even impressed his piano-playing friends when he showed off how quick he has gotten to play, thanks to the Step Up Lesson System! Another gentleman loved this keyboard because the construction quality felt great and the touch sensitivity of the keys (tactile feel) when pressed felt fantastic. He said it's great that Casio specifically made this keyboard for beginners and loaded hundreds of songs with the option to adjust the tempo to make learning easier. There is even an option to record yourself playing and your voice so you can listen to it later and make the necessary adjustments or improvements. A young student who is teaching himself to play piano loves his Casio CTK-3200 because of the quality materials used, the realistic piano sounds, the loud metronome which helps keep his playing in the proper tempo, the touch sensitivity of the keys, and the fact that he can just plug in his headphones and play without disturbing anybody.
Frequently Asked Questions#
---
Should you buy the Casio CTK-3200?#
---
Yes, you should certainly consider this keyboard with its multiple functions, features and full-sized keys.
There are certainly some shortcomings, which isn't surprising at this price point, but we believe the pros more than outweigh the cons, and this keyboard is good value for your money.
​We hope you enjoyed reading our thorough Casio CTK 3200 review. Click on the button below to buy this keyboard now!

Looking for the Casio CTK 3200 manual?#
Download it here.
Check out our other Casio keyboard reviews:
---
Casio WK6600 Review: The Perfect 76-Key Casio Keyboard For Intermediate Piano Players Our Casio CTK 2400 Review: 8 Big Reasons It's One Of The Best Starter Keyboards For Learning Piano in 2023 Our Casio LK 280 Review: The Best Casio Portable Beginner Keyboard in 2023 Our Casio LK 175 Review: 8 Compelling Reasons This Is The Beginner Keyboard For You in 2023 Our Detailed Casio CTK 6200 Review: 8 Reasons It's One Of The Best Piano Keyboard For Under $200 Casio CTK 4400 Review: 8 Reasons Why It's One Of The Best Casio Keyboards For Beginners Casio WK-245 Review: Is This The Best 76-Key Casio Keyboard in 2023?