The Casio WK 6600 Review At A Glance#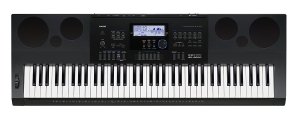 Ease of Use
Beginner friendly
Price
Affordable at less than $300!
Rating
Highly recommended!
We like:
*76 touch responsive keys
*700 built-in tones for maximum creativity
*820 high-quality voices
*50 drawbar organ tones
*260 preset rhythms
*Audio recording
*32-channel mixer
We don't like:
*Non-weighted keys
*Slightly narrow keys
Quick Navigation The Casio WK 6600 Review At A Glance A Short Introduction An Overview of Casio WK6600 Features Advantages of Casio WK6600 Disadvantages of Casio WK 6600 A Few Casio WK 6600 User Reviews Frequently Asked Questions Should you buy the Casio WK-6600? Looking for the Casio WK6600 manual?
A Short Introduction#
Are you looking for a worthwhile portable keyboard that's both wallet-friendly and packed with features? Maybe something that won't make you hold your breath while paying for it?
Ladies and gentlemen, let me introduce you to the Casio WK6600.
This keyboard is ideal for musicians who are always on the go: measuring in at 46.7"L x 15.7W" x 5.9H" and weighing only 17.4 lbs.
It is not just easy to transport and set up (using the included keyboard stand), but is fairly easy to use for players of all skill levels. However, players with prior music production experience will have a much easier time than those without.
This highly portable keyboard is a two-level, touch-responsive 76-key digital keyboard piano and a versatile workstation that works almost as well as a small digital piano or keyboard like how it does a synthesizer. And with its relatively friendly price tag, the value of the Casio WK-6600 cannot be easily found elsewhere.
We are going to discuss this in relative depth in hopes that this will help you decide whether this keyboard is worth your hard-earned money or not. Let's dig in!
An Overview of Casio WK6600 Features#
---
76 piano-style keys
700 tones
210 rhythms
48-note polyphony
32 channel mixer
16-track song sequencer
USB/MIDI connectivity
4 set x 8 bank registration memory
5 song recorder
SD card slot
Sustain/assignable pedal jack
Advantages of Casio WK6600#
---
Check out this short video highlighting some of the main features of the Casio WK 6600:
Benefit 1: The WK600 is action-packed with features!
If you invest in something, you expect or at least HOPE that you get a decent return. That's not rocket science. Good thing, we do not have a shortage of ROI on this Casio.
For starters, this keyboard has 76 piano-style keys and a pitch bend wheel. This dense keyboard gives you 700 sounds, 210 rhythms, and 100 DSP effects - plus a tone and rhythm editor.
It's also got a 32-channel mixer, and an audio/mic input that lets you be your own maestro so you can jam along with your own favorite tunes.
The Casio WK6600 is equipped with stereo speakers, and can be battery operated, for that sparked creativity on the go. Emphasis on the price: the Casio WK-6600 packs a major punch.
On top of the sundae, here are the cherries scattered on top that makes this keyboard extremely tantalizing:
10 user tones

Auto accompaniment
-16-track Song Sequencer with support for recording up to five songs
-32-channel internal mixer with volume, pan, reverb send and other parameter controls
-Rhythm Editor combines instrument parts from multiple built-in rhythms
-Built-in effects include reverb, chorus, and DSP
-Tone Editor adjusts attack time, release time, reverb, and other parameters
-SD card slot allows data to be saved to an SD or SDHC memory card
-USB port provides easy computer and MIDI send/receive connection
-Piano-style keyboard and Touch Response
-High-output 2-Way Bass Reflex speakers

I hope you're like me – I thoroughly enjoy the idea of getting my money's worth! And this Casio certainly fits my requirements!

Benefit 2: This Casio keyboard can give you more for less

But wait, there's more!
See, the idea of having great value for your money goes hand in hand if the item is actually packed with features, and I don't think I could emphasize it any better than I did in the previous section.
But, I was proved wrong.
With the Casio WK-6600, you don't just get features that are designed for the manual player. It also has added features if you just want to play around with effects, or maybe use the said effects and features to enhance your skills and give a richer performance to your audience.
For under $300, you can also get effects such as Reverb, Chorus, Auto Pan, Tremolo, Rotary, Phaser, Chorus, Reflection, Enhancer, Filter, Delay, Compressor, and Ring Mod.
Disadvantages of Casio WK 6600#
---
Unfortunately, if it is real piano-playing experience that you are after, then this unit is not for you. Although touch responsive, the playing experience is nothing like playing an acoustic or digital piano. The keys on this keyboard are not weighed, so they don't really provide authentic piano play.
In terms of instrument voices, the Casio WK-6600 has, no doubt, an incredible variety of instruments to choose from, but it can fall a little flat when it comes to realistic sound, pitch and tone.
This digital piano is the standard definition of a "portable keyboard"; sounding more digitized and has a very "synthesized" feel to them that some may dig that, and some may not.
A Few Casio WK 6600 User Reviews#
---
We have summarized a few reviews from other happy owners of the Casio WK6600 to show you we are not alone in saying this is a great keyboard for beginners and intermediate piano learners!
Review 1: "Perfect keyboard for the price"
This keyboard is amazing. I am a Hammond Organist and a Pianist by profession. I have played on many instruments in my lifetime. The keys feel good to the touch, they are responsive, and the polyphony level is great too. You don't run out of sound when playing. My favorite feature thus far is the Tone Editor. I can adjust parameters on any sound I want, and I can truly make this instrument sound like my own. It is very light, and can go anywhere you go.
Review 2: "Great for start up studio"
Good quality sounds! Rebuilding my studio on a tight budget. It works just fine and I love the easy recording set up. You can make beats right out the box. You will have to tweak your sounds to get them the way you want them to sound, but for the most part these sounds are similar to the big name keyboards! I have owned several big names and this cheap baby can hang with them! For this price point you can't beat it with a stick. If you need MIDI keys for your DAW, this baby can handle that. I needed more keys, everything has only 61 keys or less. The keys feel good and it is easy to use.
Review 3: "Good budget 76-key Casio keyboard for intermediate learners"
Excellent keyboard for your studio. Perfect for musicians on a budget. You can use this to lay down your song ideas. Make your music without turning on your computer. I like the sequencer on it, it is very easy to learn how to use. Love how you can record different tracks to make your sounds fuller. The only little thing about the keyboard is that it won't do the seamless loop like the Casio 7600 does. But it can definitely compete with more expensive keyboards!
Frequently Asked Questions#
---
1) I don't like the effects and all that bling-blings. Can the other functions be turned off so I'm just playing a "bare piano"?
Yes, there's a workaround for that. If you select the particular "music preset" or "rhythm", it shouldn't start playing until you press the play button on lower left right under the volume control knob. You can press again to pause it. So, before you press the play button, you should be able to play with plain piano sound as long as you want.
2) Does it come with speakers? How do they sound?
It does come with on-board speakers, although depending on your tastes it can sound quite synthesized. Best course of action would be to connect an external speaker of your choice.
3) How many layers can you play as a single tone? I mean, how many voices at the same time for a single key, without splitting?
You can have 2 voices at one time for a single key. 1 primary and 1 additional layered tone.
Should you buy the Casio WK-6600?#
---
Absolutely, yes!
The Casio WK6600 is going to be friendly to your wallet, what with the amount of on-board options. However, take note that this may not be entirely suitable for true beginners as there's simply far too many options and features on this keyboard workstation.
For absolute beginners, there's a lot of options for you that would suit your skill level. However, if you're a beginner BUT you have the courage and passion to advance your skills, the WK-6600 would be a great stepping stone to do so.
With time, practice, and dedication in using and experimenting the Casio WK-6600, you'll become a much better player over time.
But then again, make sure that you do have the willpower to go through with it because $300 for a keyboard for a pure novice might not be worth it and might even turn you off from playing a keyboard ever again.
Once players get accustomed to the workstation and understand how to scroll and select features, using the Casio WK-6600 is fairly simple. The display is easy to read and the buttons are arranged in a way that flows and makes sense in terms of the workstation's size and available features.
Looking for the Casio WK6600 manual?#
Download it here.
Check out our other Casio keyboard reviews:
---
Our Casio CTK 2400 Review: 8 Big Reasons It's One Of The Best Starter Keyboards For Learning Piano in 2020 Our Casio LK 280 Review: The Best Casio Portable Beginner Keyboard In 2020 Our Casio LK 175 Review: 8 Compelling Reasons This Is The Beginner Keyboard For You in 2020 Our Detailed Casio CTK 6200 Review: 8 Reasons It's One Of The Best Piano Keyboard For Under $200 Our Casio CTK 3200 Review: 9 Solid Reasons It's A Highly Recommended Beginner Keyboard in 2020 Casio CTK 4400 Review: 8 Reasons Why It's One Of The Best Casio Keyboards For Beginners Casio WK-245 Review: Is This The Best 76-Key Casio Keyboard In 2020?