ROCKJAM RJ761: Review At A Glance#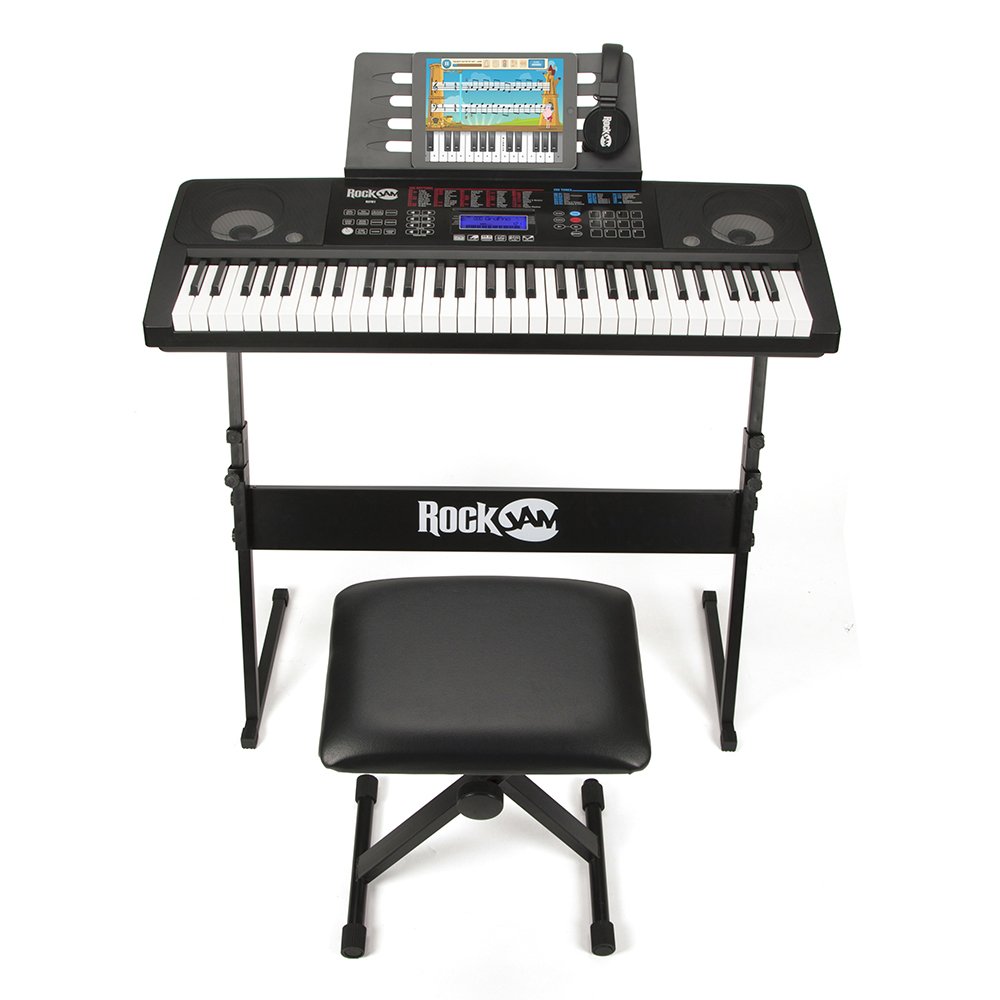 Ease of Use
Very beginner friendly
Price
​Fair price for the features

Rating
Highly recommended!
We like:
200 preset rhythms

Built in USB port

SD card support

Soft Touch

MIDI Support

Headphones included

Keyboard stool

Keyboard Stand

Keyboard stickers included

Perfect for both beginner and intermediate learners
We don't like:
Non-weighted keys

Non-lighted keys
Quick Navigation ROCKJAM RJ761: Review At A Glance An Overview of Rockjam RJ761 Features Advantages of Rockjam RJ761 Disadvantages of Rockjam RJ761 Frequently Asked Questions Should you buy the Rockjam RJ761? Click to add text or drag and drop element from right hand panel
An Overview of Rockjam RJ761 Features#
---
200 preset rhythms and tones

30 demo songs

touch pad

connecting ports along with MIDI

headphone jack

sustain pedal

keyboard stool

keyboard stand

simply piano app for both ios and android platforms

constant updates
Advantages of Rockjam RJ761#
---
​

1. Accessories: with a 61 key full-size keyboard, a adjustable stand, a pair of headphones, a sustain pedal and a comfortable stool perfect for use, it is definitely an all in one package for beginners. 2. Preset songs and rhythms: with a range of 30 songs, 200 sounds, 200 rhythms which is almost the double of its predecessor, Rockjam RJ761 has it all. 3. Simply piano application: with a free exclusive access to this application you'll get a quick and fun gameified experience and helps you learn wide range of songs, from modern pop to the classics. 4. Connecting ports: The built-in USB port provides an easy connection between your keyboard and your computer as well as send/receive a MIDI connection and a standard 3.5mm jack where you can connect your headphones, microphones or an audio amplifier!
5. Record and playback settings: with this setting one can record his/her songs and build layers to the song. You can either play it back using the 'playback' setting or send it to your computer for further editing. 6. Sustain pedal: the kit involves a sustain pedal which sustains the notes, and makes them sound for longer without you having to hold your finger on the key making it perfect for constructing any composition you wish. 7. Touch pad: have a wonderful feedback experience with this soft touch pad which is solely designed to be comfortable to all kinds of age groups. 200 rhythms, 200 tones and songs at the reach of your finger tips. 8. Portability: with the dimensions of 35.6 x 12.6 x 4.3 inches and weighing at 12 pounds this keyboard is really comfortable to carry around for a keyboard and fits in small spaces perfectly.
Disadvantages of Rockjam RJ761#
---
Frequently Asked Questions#
---
Frequently asked questions:

Are the keys weighted?
No, but they state the keys are semi weighted.

Is there microphone support?
Yes, its comes with a standard 3.5mm jack to which you can connect your
headphones, microphones or an audio amplifier.

Is it touch sensitive?
No, it does not have touch sensitivity.

Can you connect this to your computer?
Yes, definitely. It hosts a slew of connectivity options such as USB port and SD
memory card slot. You can easily transfer your songs and other audio data
through the USB port.
Should you buy the Rockjam RJ761?#
---
When RockJam launched their RJ661 61-key electronic keyboard, they quickly went on to become one of the bestselling entry level keyboards. heartened by the success, RockJam decided to launch an upgraded version (the RJ761) which is giving a good fight to the entry level models of casio. Are you the kinda person who always wanted to learn the piano his whole life and don't know where to start with? Are you searching for a reliable budget friendly keyboard? Then Rockjam RJ761 61 key keyboard is the go to option for you! Being one of the most budget friendly keyboards you basically get what you pay for but with its fair pricing you cannot expect more or compare it with expensive professional quality gear.
Available at a great price for any beginner. This keyboard has great features and is perfect for the aspiring artist in you, including the beginning little musicians and music enthusiasts.
Thank you for visiting our page and considering our review.
Download it here.
Check out our Yamaha keyboard reviews:
---
Yamaha PSR-EW400 Review: Best 76-Key Digital Keyboards Under $300 in 2020 Yamaha YPG-235 Review: Find Out Why It's Still A Top Notch 76-Key Keyboard In 2020 Our Yamaha NP-32 Review: 6 Reasons Why It's The Perfect 76-Key Lightweight Portable Keyboard in 2020 Our Yamaha Piaggero NP11 Review: 10 Reasons It's The Best Lightweight Digital Keyboard in 2020 Our Yamaha EZ 220 Review: Simply The Best Portable Keyboard Under $200 in 2020 Our Yamaha YPT 255 Review: One Of The Best Beginner Keyboard Piano For Adults and Kids in 2020 Our Yamaha YPT 240 Review: 10 Reasons It's a Top Portable Keyboard To Learn Piano in 2020 Our Yamaha PSR E253 Review: 7 Reasons It's An Excellent Portable Keyboard To Learn Piano in 2020